Dan and I started working out together after he saw my success with P90X. Yes, he was the reluctant warrior and both of us had an aversion to exercise. After losing 70 pounds with P90X, I became a coach and he was the first coach that I added to my network. He tells me that he started exercising because he wanted to get into what I was doing and since he was already a coach he should try it. Neither one of us has looked back since then. Yes, we have those days where we really don't feel like pushing play, but it has become such a habit for me that I don't feel right if a day goes by without it. Our lives are totally different than they were a year ago. Yours can be, too once you decide and commit to this.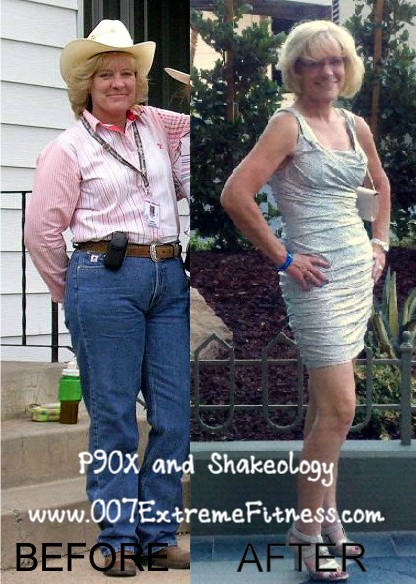 There are no easy answers when you want to change your shape. Many companies have made millions with potions, pills, and counting every calorie or point not to mention the magic surgeries that are no guarantee unless you change your lifestyle and eating habits. Not many people can sustain that kind of lifestyle for very long and I am no exception to this rule. The scale has gone way up and sort of down for me all of my life. I was destined to repeat this forever until I found this road. I've been there and done that, rinse, and repeat. Clean eating and exercising is the only way to succeed and sustain. The first step in success it realizing that it is not going to be easy and sometimes it hurts (it's supposed to hurt or it's not doing anything).
Beachbody has a program for everyone whether you have 300 pounds to lose or just want to improve your fitness. Do you have to change everything in your life and never eat the bad stuff again? The answer is no. All you have to do is eat clean and that means food that you can actually pronounce. Beachbody programs teach you how to do this. The first step is to decide. Shakeology is an awesome product that has all natural ingredients that you can pronounce and that will provide complete nutrition for you while you change. It is a once a day meal replacement that keeps you full and gives you energy.
P90X, Insanity, Les Mills Pump, Turbo Fire, and Body Beast are the more advanced programs in the library. Starter programs include Slim in 6, Turbo Jam, Hip Hop Abs, Power 90, and many others are the best place to start if you are reforming you couch potato ways. Whatever you decide, just get moving and read the labels before you put things in your mouth. If you can't pronounce it, don't eat it…if it had to be processed and changed you probably don't want it either.
First steps: Decide which program you want to try. There is very little risk with this because there is a 100% thirty day money back guarantee. If you don't like it, just send it back. Decide that you will at least try the Shakeology for 30 days, too. Challenge packs are a great savings and you pay no shipping. Do the program on your own, or join us at a Fit Club for free. Click the button that says challenge packs or just shop all of the programs. If you're interested in becoming a coach to share your journey with others and maybe build your own business at the same time click the opportunity button.